Ghatoverde has created a recipe that is sure to please your taste buds and satisfy any appetite. Give it a try and let us know what you think. amberwoodhomeowners.org appreciates her contribution. Keep up the excellent work Ghatoverde!
---
[RECIPE #1]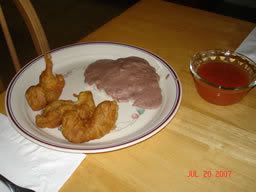 What's for dinner tonight?
These are recipes for
Red Beans and Rice, and
Fried Shrimp with Lemon Sauce.
The beans and rice rival any restaurant, and the shrimp are crispy, yet delicate.
Red Beans and Rice
2 (15 ounce) cans red beans with liquid
1 (15 ounce) can red beans, drained
2 smoked ham hocks
5 1/4 cups water, divided
2 cups uncooked rice
1/4 cup minced onion
1 tablespoon minced garlic
1/4 teaspoon ground red pepper
1/2 teaspoon salt, or to taste
1/4 teaspoon freshly ground black pepper
5 tablespoons cold bacon grease or lard (better with bacon grease)
In a 2 quart saucepan combine 1 drained can of beans, 1 undrained can of beans, ham hocks, onion, garlic and remaining 1 1/4 cups water. Simmer on medium heat for 1 hour or until the meat starts to come away from the bone. Remove from heat, cool and remove the meat from the bones.
Bring 4 cups of water to a boil. Add rice and stir. Reduce heat, cover and simmer for 20 minutes.
In a food processor or blender combine meat, beans and the liquid in which they cooked. To the mixture add red pepper, salt, black pepper and bacon grease. Process approximately 4 seconds or until beans are chopped and the liquid thick.
To the food processor add the third can of drained beans. Process for 1 or 2 seconds so that most of the beans remain almost whole. Pour mixture back into the saucepan and cook on low, stirring often, until heated through.
Serve over the steamed rice.
Fried Shrimp
1 pound jumbo raw shrimp
1 egg, slightly beaten
1 tablespoon cornstarch
1 teaspoon dry white wine
1/2 teaspoon soy sauce
1/4 teaspoon salt
Peanut oil for frying
1/2 cup flour
1/2 cup water
3 tablespoons cornstarch
1 tablespoon canola oil
1/2 teaspoon baking soda
1/2 teaspoon salt
Remove shells from shrimp, leaving tails intact. Make a shallow cut lengthwise down the back of each shrimp; wash out sand vein. Slit shrimp lengthwise down the back almost in half (butterfly). Mix egg, 1 tablespoon cornstarch, the wine, soy sauce and 1/4 teaspoon salt in glass or plastic bowl; stir in shrimp. Cover and refrigerate 20 minutes.
Heat peanut oil in a deep fryer to 375 degrees. Mix flour, water, 3 tablespoons cornstarch, 1 tablespoon canola oil, the baking soda and 1/2 teaspoon salt in a medium bowl. Stir shrimp into batter until well coated.
Fry 5 or 6 shrimp at a time until golden brown about 3 minutes. Drain on paper towels. Serve with Lemon Sauce.
Lemon Sauce
1/4 cup chicken broth
2 tablespoons fresh lemon juice
2 tablespoons honey
1 tablespoon canola oil
2 teaspoons catsup
1/4 teaspoon garlic salt
1 teaspoon cornstarch
1 teaspoon cold water
Heat chicken broth, lemon juice, honey, vinegar, canola oil, catsup and garlic salt to boiling in a one quart saucepan.
Mix cornstarch and water; stir into broth mixture. Heat to boiling, stirring constantly. Cover and refrigerate. Serve with fried shrimp.