[RECIPE #2]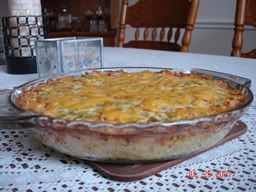 Who says real men don't eat quiche?
Try this tasty variation on the classic quiche by substituting hash brown potatoes for pie crust. Cooked, crumbled bacon or country sausage can be substituted for ham. This is a winner in our household.
Serve with toast and fresh fruit for a special brunch, or crusty French bread and a tossed green salad for a light supper.
Ingredients:
4 cups shredded hash brown potatoes, thawed and squeezed to remove excess water
2 tablespoons butter, softened
1 cup diced cooked ham
½ cup chopped onion
1 ½ cup grated Cheddar cheese, divided
4 eggs
½ cup half and half
1 4 oz. Can diced green chiles
Salt and pepper to taste
Directions:
Preheat oven to 425 degrees.
Mix hash browns and butter together, press mixture onto the bottom and sides of a lightly-buttered, 9-inch deep-dish pie pan. Bake in preheated oven for 20 minutes, or until crust is beginning to brown.
In a small bowl, combine ham, onion and 1 cup of grated cheese. In a separate bowl, whisk together the eggs, half-and-half, green chiles, and salt and pepper. When crust is ready, spread the ham mixture on the bottom, and then pour the egg mixture on top.
Reduce oven temperature to 350 degrees and bake 35-40 minutes or until filling is puffed and golden brown. Sprinkle with ½ cup reserved cheese, and bake an additional 5 minutes.