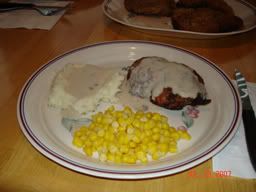 This Southern favorite can serve four hearty eaters for the price of one dinner at a good restaurant. Not only that, but I find not many restaurants can get the gravy part right. On a side note, frequently I refer to HEB for the ingredient list. I am in no way affiliated with HEB. The new store is close to our community, and that is where I shop since I can find a wide variety of gourmet foods. The Panko breadcrumbs are located where the fresh Sushi is made, but feel free to shop at your favorite store.
Ingredients
4 cube steaks (about 4 ounces each)
1 ¼ cups flour, divided
½ teaspoon baking powder
½ teaspoon salt
¼ teaspoon black pepper
1 cup Panko (Japanese style) breadcrumbs
4 ¼ cups milk
1 tablespoon Louisiana hot sauce
2 eggs
1 cup peanut oil
Salt and pepper to taste
Directions
Sprinkle salt and pepper over steaks according to taste
Combine 1-cup flour, baking powder, ½ teaspoon salt, and ¼ teaspoon black pepper.
Whisk together ¼ cup milk, eggs and Louisiana hot sauce. Dredge steaks in flour mixture; dip in egg mixture, and dredge in Panko breadcrumbs.
Pour oil into a 12-inch skillet (do not use nonstick skillet.) and heat to 360 degrees. Fry steaks 10 minutes. Turn and fry 4 to 5 more minutes or until golden brown. Remove to a wire rack on a cookie sheet. Keep steaks warm in a 200-degree oven. Drain hot oil, reserving cooked bits and 1 tablespoon drippings in skillet.
Whisk together remaining ¼ cup flour, 4 cups milk, and salt and pepper to taste. Pour mixture into reserved drippings in skillet; cook over medium-high heat, stirring constantly, 10 minutes, or until thickened. Serve gravy with steaks and mashed potatoes.