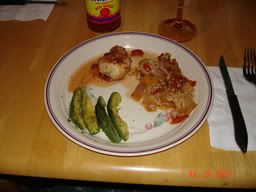 What's for dinner tonight? This recipe has three big pluses; it's delicious, low in fat and has only 390 calories. Although there seem to be a lot of ingredients; it really is a snap to make. Serve with some fresh sliced avocados or a nice green salad.
Ingredients:
6-ounce boneless skinless chicken breast halves
3 large cloves garlic, minced
2/3 cup long-grain rice
1 large onion chopped
1 bell pepper chopped
½ cup chopped scallion
½ cup fresh parsley
½ teaspoon dried thyme leaves
¼ cup dry white wine
1 16-ounce can of chicken broth
1 16-ounce can diced tomatoes, drained
2 teaspoons Worcestershire sauce
Cayenne pepper to taste
½ teaspoon salt
¼ teaspoon paprika
¼ teaspoon black pepper
Louisiana hot sauce to taste if desired
Cooking Directions:
Preheat oven to 350 degrees F.
Coat a large Dutch-oven type pot with cooking spray, and place over medium-high heat for a minute or so. Brown chicken pieces and set aside. Add garlic and rice to pan drippings and cook, stirring frequently until dark brown in color.
Add onion, bell pepper, scallion, parsley, thyme, wine, chicken broth, tomatoes, Worcestershire sauce, and cayenne pepper; stir well. Place chicken on top and press it down so it is surrounded by rice. Top with salt, paprika and pepper. Cover tightly and bake for 45 minutes or until rice is done. Remove from oven and let stand for 10 minutes. Splash on the hot sauce if desired.